BAYERISCHE STAATSOPER SUBSCRIPTIONS

Looking for easy and regular visits to the Bayerische Staatsoper, without planning stress? Then simply have a look at our subscription series. Visit opera, ballet and concert performances regularly and benefit here from our attractive subscription price with a discount of up to 35% per ticket. The subscription performances are spread over at least six performances during the entire season and you can choose your subscription seats yourself.
THE BAVARIAN STATE OPERA SUBSCRIPTIONS
You want uncomplicated and regular visits to the Bavarian State Opera, without planning stress? Then you should take a look at our subscription series. Attend opera, ballet and concert performances on a regular basis and benefit from our attractive subscription price with a discount of up to 35 percent per ticket. The subscription performances are spread over at least six evenings throughout the season and you can choose your subscription seats yourself.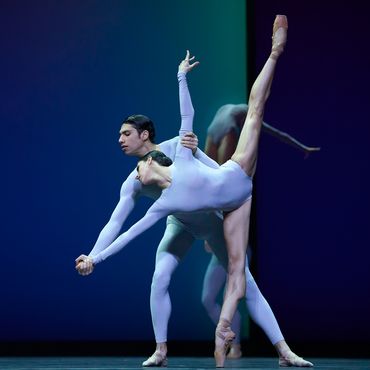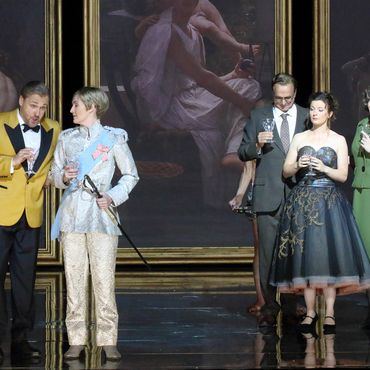 Gift Subscriptions
This year, we have once again put together loving packages: With one of our gift subscriptions, you'll give the gift of three unforgettable evenings that provide a glimpse into the house's diverse programming, all without the stress of planning.

TO THE GIFT SUBSCRIPTIONS
Exclusive anniversary subscription
A subscription that takes you on a journey across the diverse repertoire of the Bavarian State Orchestra: The subscription starts with the opening concert of the anniversary. The program includes works by composers who have left their mark on the orchestra: With Orlando di Lasso, we go back to the beginnings of the State Orchestra, and with Richard Strauss' Alpine Symphony, the start of the anniversary is celebrated in a fitting manner. We then leave the National Theater and fill the Isar Philharmonic for the first time with the orchestra's unique sound. An evening of Tchaikovsky overtures by the Bavarian State Ballet awaits you at Easter, demonstrating the excellence of the musicians:inside in the ballet field as well. Tristan und Isolde, a work that this orchestra premiered, is the opera highlight of the subscription, before you can experience a grandiose subscription finale with the two major anniversary concerts during the Munich Opera Festival. The number of subscription seats is limited.
Tue 10.01.23 Concert 3rd Academy Concert
Sat 25.03.23 Concert The Bavarian State Orchestra as guest at the Isarphilharmonie
Sat 08.04.23 Ballet Tchaikovsky Overtures (AT)
Mon 10.04.23 Opera Tristan and Isolde
Sat 08.07.23 Concert 1st anniversary concert
Sun 23.07.23 Concert 2nd Anniversary Concert
Price 410 / 349 / - / - (plus 6 € handling fee)
SOLD OUT
Interested in a subscription?
Along with additional benefits, in our SUBSCRIPTION OVERVIEW you'll find all our subscription series listed together with performance dates and prices. You will also receive infos on the ordering and payment arrangements.

Already have a subscription with us?
You can manage your subscription online via our SUBSCRIPTION LOGIN.
You'll find our RE-BOOKING FORM here, in case you cannot attend on one of the performance days. You can also manage your re-booking credit via our subscription login.
For detailed information read our SUBSCRIPTION TERMS

Still have questions? You'll receive information in person at our box office or by phone or e-mail via our subscription office:

Box office at Marstallplatz
Opening hours:
Monday - Friday / 10:00 to 18:00
[email protected]
+49 89 21 85 19 30
Our Subscriptions

ALL BENEFITS AT A GLANCE
● You receive a discount of up to 35% per subscription ticket.
● You have fixed seats that you can choose yourself – depending on availability.
● Your Subscription ID allows you to travel free with all MVV transport options from 3 pm on performance day (i.e. three hours before the performance begins) until 6 am on the following day.
● You receive a 20% discount for all other performances (beginning 14 days before a performance, subject to availability, there is a discount of 20% on further tickets).
● As a subscriber, our monthly programmes are sent to you free of charge.

OUR SUBSCRIPTION SERIES AT A GLANCE

In addition to various opera subscriptions, the Staatsoper also offers a ballet subscription, an academy concert subscription, a chamber music subscription, and several season subscriptions.

The price of a subscription is determined by the performance price and number of performances. Should, due to the pandemic, only four of the five performances take place, the price will be reduced by the amount of the cancelled performance.
All following prices plus handling fee of € 6.
RE-BOOKING FORM

One performance per season can be re-booked in each opera and ballet subscription. You can do this from 1 September until one week before the performance date at the latest, online, by phone, at the desk or in writing. With a re-booking, you receive a virtual voucher, which is saved under your customer number. You can redeem or charge this when buying a regular ticket until the end of the respective season. You'll find details in our subscription terms.